Alternative Academic Calendar Committee
Alternative Academic Calendar Committee
Alternative Academic Calendar Committee (AACC)
The Chabot-Las Positas Community College District is gathering information to understand how a 16-week semester vs. an 18-week semester would impact students, faculty and staff. It is important that we hear from you to understand the benefits and liabilities of each semester length.
---
STUDENT SURVEY
STUDENTS: Take a brief survey for a chance to win 1 of 4 $100 gift cards.
Click here to complete the STUDENT survey.
STAFF SURVEY
STAFF: We also want to hear from you. Your responses will remain anonymous.
Click here to complete the STAFF survey.
Surveys close November 13, 2023
---
Join any of the five public forums being held on Zoom or in person to learn more and share your perspective.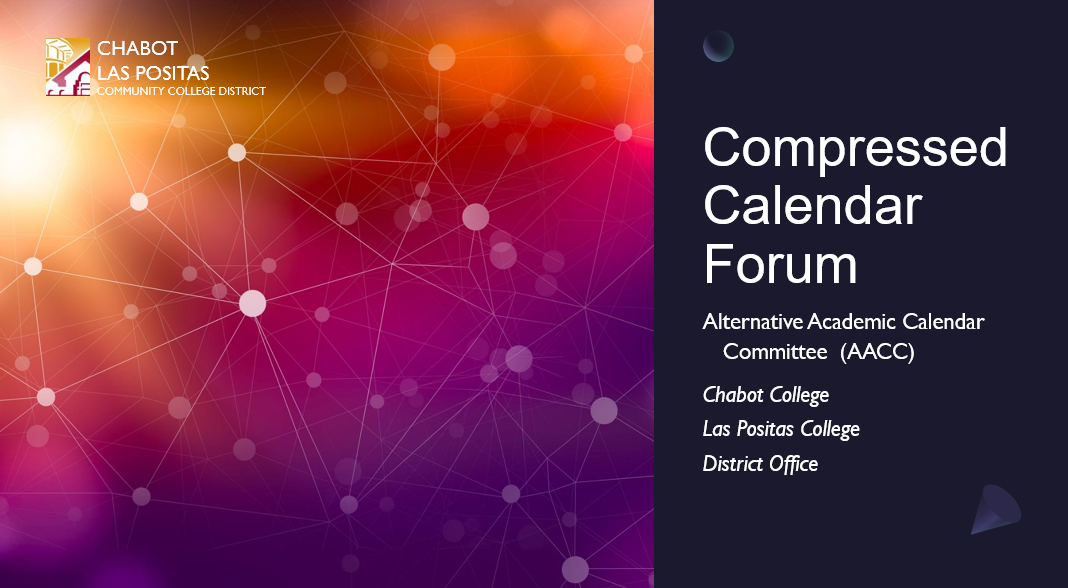 Compressed Calendar Forums 2023 Powerpoint
Join a Public Forum
Tuesday, November 7 @ 12:00 PM

Chabot College Hour in the Recital Hall, Bldg 1200, Room 1224
Thursday, November 9 @ 6:00PM via Zoom
---
The AACC will be led by two Chairpersons (co-chairs): Dr. Theresa Fleischer Rowland and an FA Appointment Jason Ames. The AACC will "examine in detail the benefits and liabilities involved with any modification to the standard seventeen and a half (17.5) week semester Primary Term." (FA Article 8)
The AACC will be supported by the district-contracted professional expert, John Mullen. The AACC co-chairs will work closely with John Mullen to lay out the process, collaboratively plan the agendas, and facilitate guide and respond to the committee.
AACC Member appointment took place in Fall 2022 by the District/Colleges and FA. AACC members were carefully selected to represent key stakeholder groups, contribute expertise, and ensure consistent and committed participation. The committee will strive to keep to a group of approximately 19 voting members, and pro-actively include resource experts from across the colleges and district throughout the process. The co-chairs will promote a clear itinerary of topics and meeting access information in order that connected, concerned, and involved individuals can attend the open meetings.
Vice Chancellor Rowland's ESSS District Office will coordinate with the AACC members to set, communicate, and support meetings that will fit into the schedule of Committee members throughout Fall 2022 and Spring 2023, to commence no earlier than the week of October 10, 2022. Holidays and peak times for programs and services will be taken into consideration.
For more information, questions or comments, please contact:
Faculty in Communication Studies
Phone: (510) 723-7438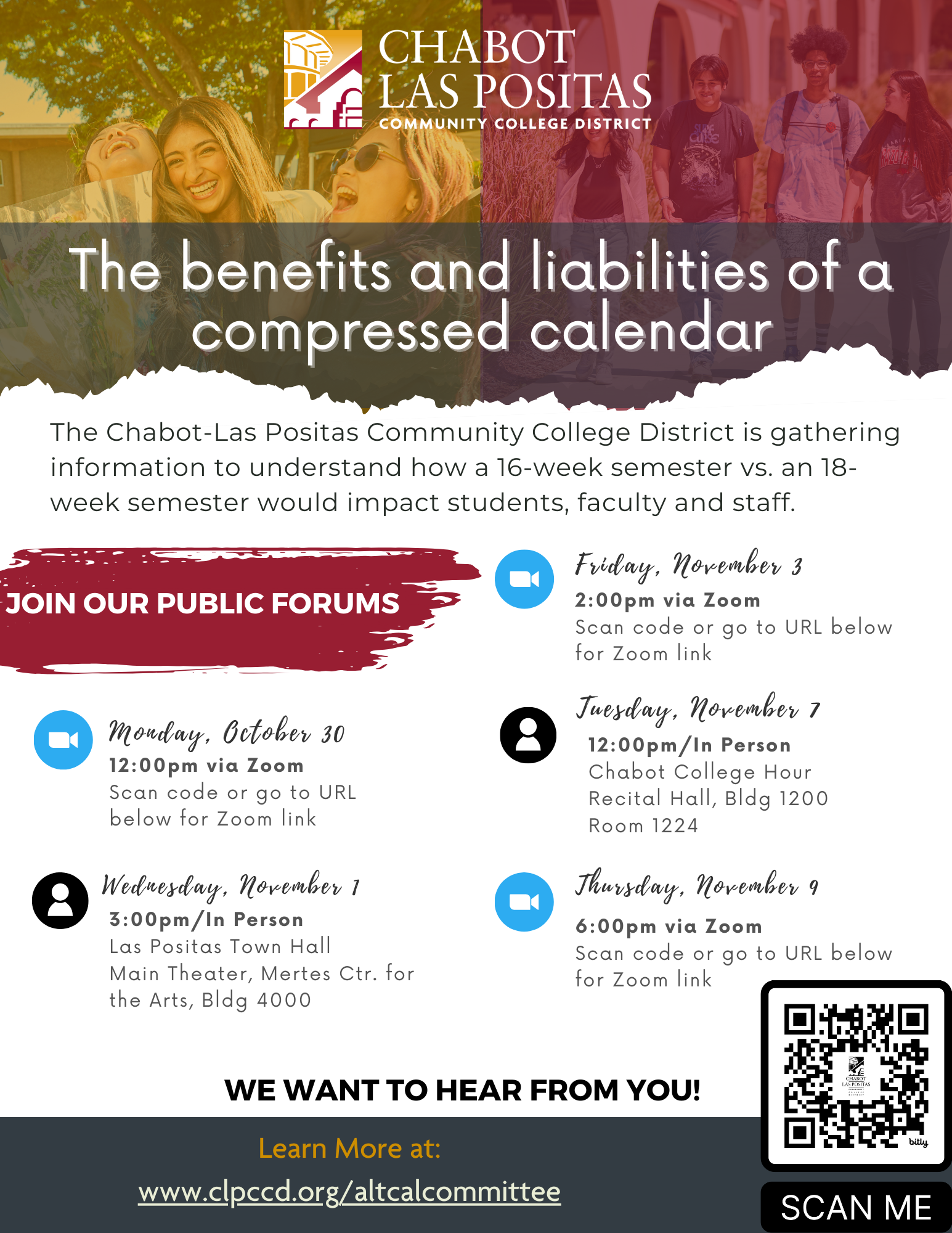 Compressed Calendar Toolkit: